Dear Community!
We're bringing some story elements which will help you shape your cities in many ways, by encouraging stable development. Event and Quests will help you keep up with the ideal growth and give you plenty of choices to make. But remember that choices you make may have unforeseen consequences.
Events
Significant moments will shape your journey. After major milestones, you will be directly confronted with your citizens' needs and have to find the best possible solutions for all of them. It's up to you to decide what your city's budget and workforce can afford. You will have a general idea of the consequences of your actions, but like everything in life, nothing is for sure. Sometimes your decisions may have unlikely consequences and you will have to pay the price.
But milestones are not the only moments when events will interrupt your peaceful city planning. Life isn't always predictable and certain events will catch you by surprise. These may be related to forces of nature, the Emperor's moods or special holidays. You will have to make the decisions and then follow through. The citizens will remember your choices and that will influence their satisfaction. So very often if you decline their pleadings, you will be punished with temporary satisfaction debuffs.
Quests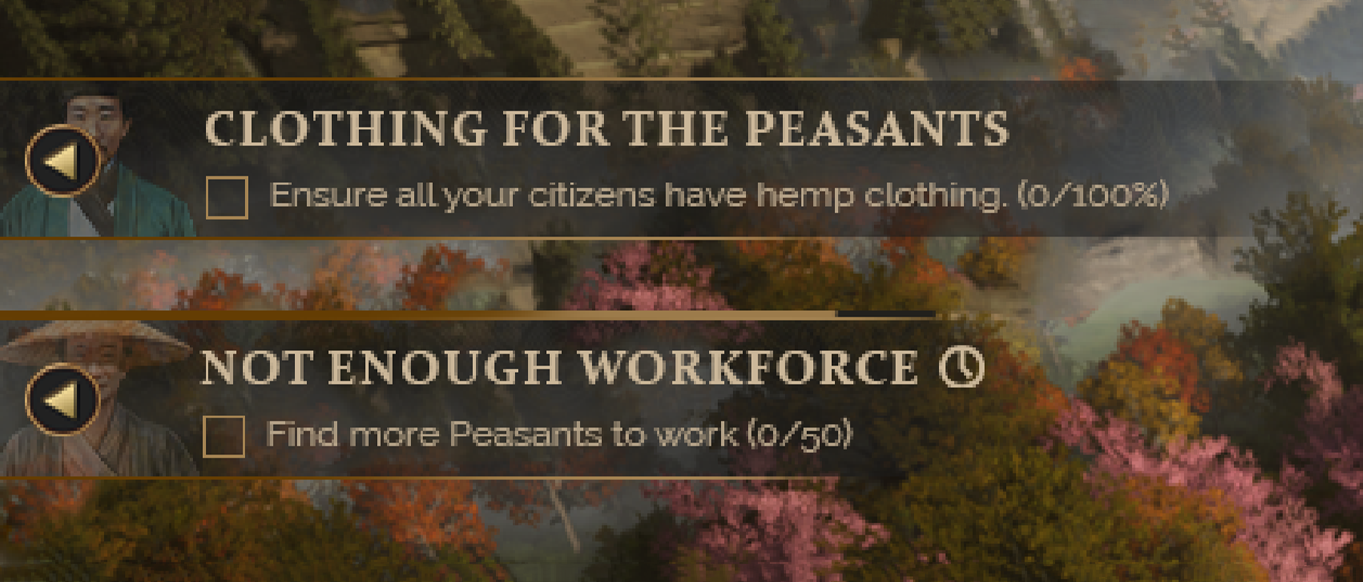 They are the tasks you must fulfil once you make your decision in the Event window. These are often related to providing your city with a certain amount of materials or newly unlocked processed goods. If your citizens came to you asking for new clothing and you decided to help them, the quest of making clothes will begin. Sometimes you will have to race the clock and provide for the city before the time runs out. And if you fail, your citizens will not be too happy and for a while, you will have to work extra hard to satisfy their needs.
So the shape of your city, decorations and where you choose to build things, it's still completely up to you. We want to make sure you get to experience all sides of running a city and that you don't accidentally forget certain branches of the industry or infrastructure.
Let us know what events you would like to see the most!
See you next time
The Devs